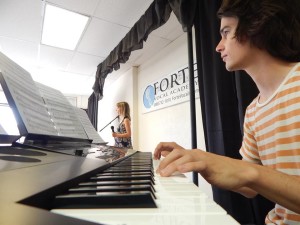 Feelings of stress and fear as auditions approach are very common. Don't worry we're here to calm your nerves. Whether you're aiming for a fun choir to join or a lead role in the next biggest musical, we'll make sure to get your fully prepared and ready to ROCK!
Leave all your worries at the door! Let our experienced vocal coaches take the reigns. We are here to guide you step by step, preparing you to nail your audition! 
Choosing Your Music – We'll help you pick the best song for your audition appropriate to your vocal ability and what you're auditioning for.  

Music Materials Provided – We'll provide you with any Sheet Music, Mp3, or any Instrumental Tracks that are needed for your audition. We'll even change the key to fit your voice!

Vocal Technique – The Forte Method is used by all our skilled vocal coaches to make sure you can sing at your greatest potential and show off your talents during your audition.  

Preparing Yourself – Part of the anxiety of auditioning is the feeling of being judged. We combat this with techniques that put you in the setting of a live audition to make it as realistic as possible.

Piano Talk – Don't know how to read music? No problem! We'll walk you through the lingo you need to sound personal and clearly communicate with your accompanist. 
Being Professional – Your audition begins the moment you enter the stage. Our audition preparation will walk you through the details of introducing yourself, standing on stage, connecting with the judges and much more.