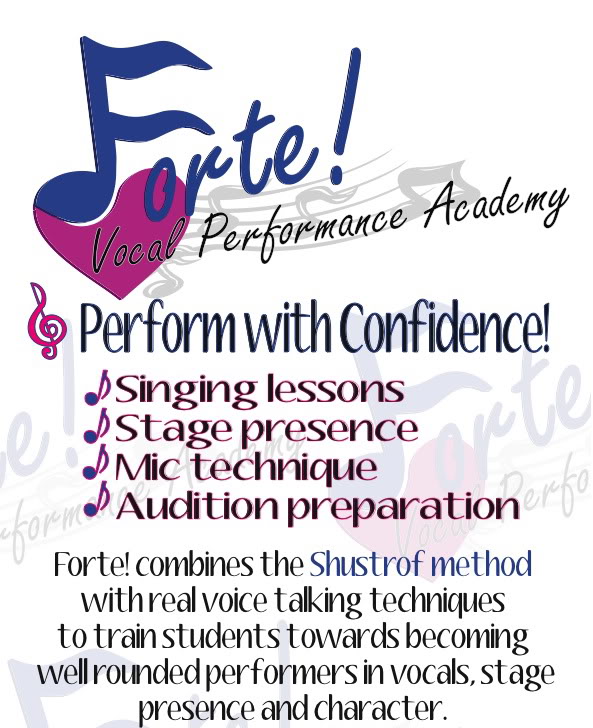 Our Teaching Philosophy
At Forte Vocal Performance Academy we create a fun filled and joyous atmosphere. Yes We Have Fun! We believe that music is all about telling a story that you love to others that enjoy listening.
Ever heard someone perform a song perfectly, but for some reason you didn't feel a connection or true interest in what they were saying? Singing a song in tune is one thing, but telling the story of the song is where the true enjoyment begins. Our singing teachers here in Santa Cruz don't just focus on singing technique, but on the WHOLE package. They help the student create a grab bag of tools to use in telling their story.
 We don't just teach singing, we build the full performing package!
VOCALS:
Breath Support, Stretch, Face Alignment, Vowel Alteration, Note Approach, Core Strength, Dynamics, Vibrato Control, Vocal Care, Cord Stretch, Larynx Connection, Open Throat, Golden Thread, and Much More.
STAGE:
Presence, Body Alignment, Centering, Movements, Energy Production, Microphone Technique, Stage Etiquette, Focal Point, Band Conducting & Timing In, Microphone Stand Adjustment, Choreography, And Much More.
CHARACTER:
Thought Process, Body Involvement, Subtext, Emotional Translation, Audience Connection, Eye Contact, Use Of Space Within Text, Expressions, Inner Monologue, Jump Points, Setting The Direction, Personalization, And Much More.
==> COUPON: One Hour Vocal Lesson $20!!<==