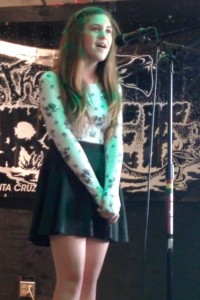 Here at Forte Vocal Performance Academy we specialize in private singing lessons for all types of voices and Michaela is a perfect example of this. Her delicate folk and bluegrass styled voice was so beautifully displayed as she strummed her ukulele. It was a perfect combination….if she had  a microphone. 
The problem was that Michaela had trouble singing out loud. Each time she would try to sing beyond her usual whisper she couldn't, or more like she didn't know how. Truthfully this excites me as a singing teacher. There's so much joy in watching a student with such a stunning and original talent start to blossom out. I knew this was greatly possible when she decided to do our Student Showcase only two weeks into private singing lessons! She wasn't fully prepared, wasn't experienced and was scared to death, but she agreed to do it anyways! I knew that if she was willing to face her fears in the performance, then she would be willing to do the same in her private lessons. That's exactly what happened.
Today Michaela not only can sing louder than ever and has confidence singing like never before, but she got a part in the local performance of Hairspray. Just a few months ago singing in a musical on stage in front of a full audience would have seemed impossible for Michaela. Now every lesson she comes to me smiling bright and beaming with excitement to work on her songs from the show. I smile back because I know these experiences she's having with carry on with her throughout her life and I am honored to be a part of them.
-Audrey McDonald
Head Vocal Coach